Niger Republic and Guinea played a 2-2 draw in Friday's Group C clash at the Africa Nations Championship in Kigali, leaving Nigeria on top of the grouo going into the final group matches.
Niger took the lead in the 37th minute through Abdul Oumanou.
But two minutes later, Aboubacar Sylla equalised for Guinea.
In the 49th minute, Niger went in front again thanks to Adamou Issa.
Guinea once again came from behind to draw level in the 78th minute through a Kile Bangoura strike.
Guinea have two points from two games, and must beat Nigeria, who have four with a plus 3 goals difference, on Tuesday to stand a chance of qualifying for the quarter-finals.
Niger, who earned their first point, must also secure all the three points against Tunisia to advance to the knockout stage.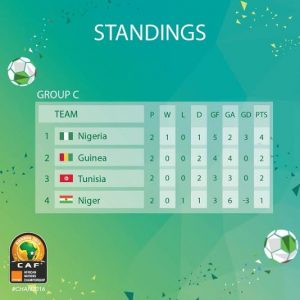 4years ago My wife left me,because i was too WEAK in bed,but today she calls me Bed Champion.Now i finally discovered a Natural Solution that forces women to ask for more. " - CLICK HERE To See My Breakthrough.
Men, eat this fruit & you will get a bigger penis size.
How I Permanently Cured My Premature Ejaculation And Low Sperm Count Problem Without Any Side Effects Within 72hrs.And Confidently Last Over 35 Minutes Per Round In Bed.