By Adeboye Amosu:
Taraba United players have vowed not give up until their all their salaries are paid by the state government, reports Completesportsnigeria.com.
The players who are protesting the non-payment of their 11 months salaries, Completesportsnigeria.com learnt, slept in front of the government house on Monday night after the state government failed to honour their words to pay four months from the salaries owed them.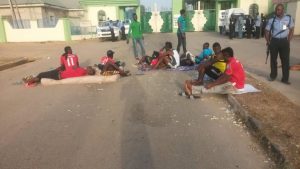 "It's no retreat no surrender for us now. We are determined to get our salaries no matter the challenges," one of the players told Completesportsnigeria.com.
"We showed that by sleeping in the harsh cold weather at the government house on Monday and we won't go back until our demands are met.
"At the moment we are not ready to listen to anybody aside from the governor as all the promises made to us in the past were not fulfilled.
"Imagine us going close to a year without getting our salaries when some of us have families at home to cater for.
"Until they pay us we will not leave the government house."
The Jalingo-based outfit were relegated at the end of the 2014/2015 season and will compete in National League next term.
League Management Company Chairman Shehu Dikko has stated that the body is in contact with the Taraba government in order to get the players paid.
4years ago My wife left me,because i was too WEAK in bed,but today she calls me Bed Champion.Now i finally discovered a Natural Solution that forces women to ask for more. " - CLICK HERE To See My Breakthrough.
Men, eat this fruit & you will get a bigger penis size.
How I Permanently Cured My Premature Ejaculation And Low Sperm Count Problem Without Any Side Effects Within 72hrs.And Confidently Last Over 35 Minutes Per Round In Bed.